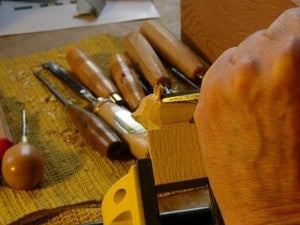 I have a workshop in Sheffield, UK. Working mainly to commission, this is the first time I have made small carvings available to buy on the internet.

Everything on sale is hand-made and hand-painted and each carving is cared about as if it was being done for someone I know. I don't carve actual limited editions, but they are limited in the sense that I won't churn them out, for my own sake, as well as yours.
All carvings have 'MADE IN SHEFFIELD, NICK HUNTER WOODCARVER' imprinted on them.